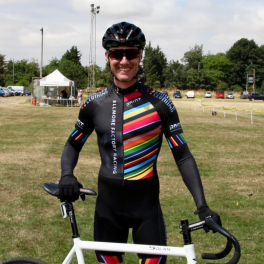 I've joined Ellmore Factory Racing for 2018/19 having ridden for local club Fenland Clarion for the past decade on and off. I started off riding club 10's on a whim with a friend in 2004 who said lets go and try a 10mile time trial; how hard can it be... a slippery slope for the ever elusive 'just' a bit quicker time, a new family and life in the middle, resulted in a not so quick 23min 45sec result in 2015, but one I was pleased with.

2015 saw a sidewides move to get track accreditation at Derby Velodrome with some top 10 results in the beginners Category C Derby Track League in 2016 with promotion to Category B in 2017 managing a few points and a win on the way. Grass track covers off the fixed gear need in the summer in the Lincs Grass Track events. I hate the longer races without much endurance in the mix at the moment but seem to be able to punish myself well in the short sprint events qualifiying for the sprint finals at Sleaford this year and last, but only finishing fourth on a very bumpy track and managing first in the handicap finals in 2018.

A dabble in MTB racing in 2016 resulting in many smiles but a realisation that I wasn't as fit as I could or should be for racing. The challenge of cross was raised in 2017 so the formal diagnosis of 'addicition' to the 'hour of hell' arrived quick afterwards and superseded time trialing as way more fun and just as crazy.

So - 2017 saw me finish joint 18th which I was very well pleased with considering I only raced 4 of the 6 points qualifying events but a jump to Vets this year sees the competition increase somewhat and new fellow team mates all at the pointy end - hopefully some pointers will be coming my way!!!

But bring it on... I'll be there racing and managing little one's to their races on time as well and stressing out before I thrash myself silly each weekend with a smile and anticipation of a McDonald's ice cream at the end.