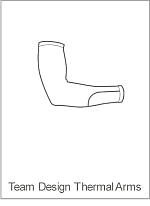 An ideal partner for the short sleeve road jersey for early season races and cooler weather rides. Keep them on all day or if the weather hots up peel them off and you will barely notice them in your jersey pocket.
These anatomically cut thermal armwarmers come in super-roubaix fabric, with silicon grippers at the bicep and wrist for extra comfort.
Why not check out our gallery for images of our clothing range, design work and previous orders.