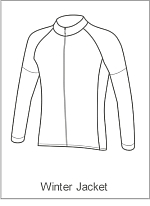 The jacket to choose when it's cold, wet and windy outside and the couch seems more appealing than your bike. It keeps the elements out and your body heat in.
This long sleeve winter jacket comes in 3 layer breathable, waterproof membrane fabric with fleece inner lining, silicon gripper at the waist, full length front zip and 3 rear pockets as standard.
Why not check out our gallery for images of our clothing range, design work and previous orders.