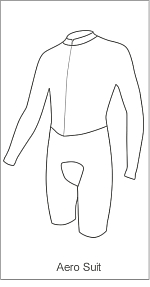 The ultimate in performance enhancing clothing, wind tunnel tested fabrics and patterns to give you the egde.
This long sleeve ultra aerodynamic race skinsuit comes with top of the range seamless antibacterial seat pad and front zip. Sleeves and shorts come without hems to optimise the aerodynamic transition from skin to fabric.
NB We do not offer budget pads as the cost saving is minimal and the comfort loss much greater.
Why not check out our gallery for images of our clothing range, design work and previous orders.