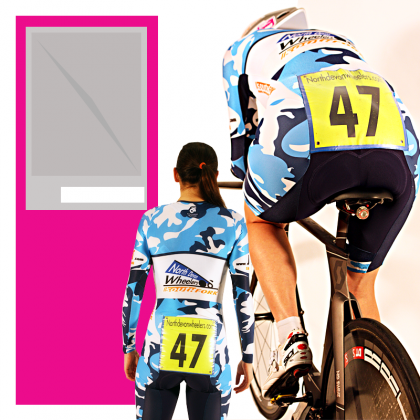 We are pleased to be able to offer the fitting of the Nopinz SpeedPocket to our clothing.

Nopinz have developed a process in which a permanent fully integrated 4-way stretch memory plastic pocket is tailor fitted to any skin suit to seamlessly hold your number which they have called this the "SpeedPocket".

The Nopinz SpeedPocket is very simple to use and alleviates the need to pin on a number ever again! The number is installed before putting the garment on, so no need to find a "pinner" ever again either!

Available in a range of backing colours to best match your suit. Nopinz SpeedPocket is a permanent, re-usable, fully integrated and machine washable addition to your skin suit or garment.

Your garment is sent to us along with confirmation of your requirements, we then bond and stitch in the lycra panel containing the "SpeedPocket", we then return the skin suit to you along with care instructions.

£64.99 (inclusive of standard return postage)
NB: turn around time is extended currently to between 7-10 working days from receipt of your garment.